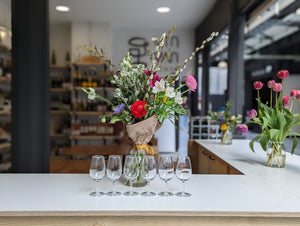 WINE SHOP & TASTING ROOM - SIOP WIN & SAFLE BLASU
WELSH WINES - GWIN CYMREIG
WINE TASTING - BLASU GWIN
VIN VAN CYMRU
Vin Van Cymru is a bilingual wine merchant and tasting events company founded by the self-titled wine lover "Cwin y Gwin" (Wine Queen). Our mission is to make quality wines available to everyone, to share our knowledge and expertise and dispel the myth that you have to be an expert to enjoy good-quality wine. There are no rules, it's okay to like what you like!
The wine industry can often be intimidating and overwhelming so our goal is to make wine accessible to everyone, whatever your preference. We host monthly wine tastings, sharing our delicious wines and in-depth knowledge in a fun and informal setting. This means everyone can become better informed about the wine they drink and gain more confidence about buying wine in the future.
We actively support the Welsh wine industry, working closely with Welsh vineyards to offer one of the most extensive Welsh wine selections in Wales. 
We look for interesting wines with character. Wines from boutique wineries, small vineyards and interesting wine regions. We seek out obscure grape varieties and innovative winemakers. You will never find our wines in a supermarket. Above all else, we value wines with a story.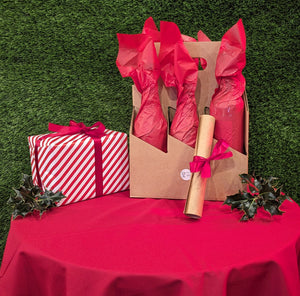 The Full Christmas Case
Save yourself the hassle of sorting out your Christmas wines this year and grab our pre-selected full Christmas case!
Everything you need for a festive celebration, including a delicious fizz, two whites, two reds and a bottle of Port -
All packaged in a handy carry case with full tasting notes to guide you through your selection
And all for under £100!
Private Tastings
If you're looking for a fun and unique wine tasting experience then look no further!
We cater for birthdays, hen parties/stag dos and even corporate events.
Our wine tastings can be hosted at the Corp Market/Yard or at any location within Cardiff.
We can arrange anything from formal introductory tastings to more fun and interactive group tastings with games and activities. We can even arrange a cheese & wine pairing!

For more information and pricing get in touch with Sara at vinvancymru@gmail.com to see what we can do for you!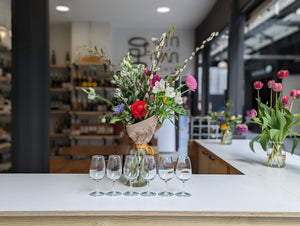 Flower Arranging & Wine Tasting
If you'd like to arrange a special flower arranging and wine tasting event with Vin Van Cymru & Dorothy Seed, get in touch to see what we can do for you! From making hand-tied bouquets and sniffing wine bouquets to wreath making and tasting note taking, we can come up with a special idea for you!
Subscribe to our newsletter
Special offers, exclusive products and more. Directly to your inbox.